Hello everyone!
So I've been in what we could call a mini-slump because of everything going on (renovation/school work/job…) but I've felt like picking up some quick reads not to fall behind and so I did! It started with "The Lover's Dictionary" by David Levithan and then "Brown Girl Dreaming" by Jacqueline Woodson and right now I'm currently reading Finnikin of The Rock (still!), David Copperfield and Bird by Bird. I'll just say this about the two books I finished right off the bat: I liked  one more than the other and it's the latter, Brown Girl Dreaming. I've expressed my opinion both on Goodreads and on Twitter while reading the two books and now I'm here to review them. I find it quite hard to review quick reads/books written in verses so I'll try to do my best!
 THE LOVER'S DICTIONARY 
Published January 4th 2011 by Farrar, Straus and Giroux
SYNOPSIS: How does one talk about love? Taking a unique approach to this problem, the nameless narrator of David Levithan's The Lover's Dictionary has constructed the story of his relationship as a dictionary. Through these short entries, he provides an intimate window into the great events and quotidian trifles of being within a couple, giving us an indelible and deeply moving portrait of love in our time.
MY THOUGHTS: I think that I saw a quote on Instagram from this book and I thought: hm, cute, i should check that out! I actually didn't know that the whole book was written in a dictionary format at the beginning and when I did, I was even more interested. Before picking it up, I decided to watch plenty of Booktube videos about it and reviews all over the blogosphere. What I found? Mainly positive reviews. 3 stars, all the way up.
I was pretty excited to read it and I finished it all in one sitting but…Meh. I keep describing it as "Meh" because there's no better word I can find for what I felt after putting down this book. I really wanted to like it and I kept thinking about whether I was missing something or if it was really terrible. I couldn't shake the feeling that something was wrong. Part of me loved the idea of how the story was told. But the other part was like: Story, hello? Can you get any better?
I did not get attached to the characters because I didn't even get time to know them (and in case you don't know that, I loooove when characters are developed more and in a great way) and the one telling the story was not someone I appreciated and I really don't know why his girlfriend, the one he's talking about, doesn't just leave him because, ugh! I just didn't like that relationship at all. I lost all interest very quickly and I just wanted to finish it and get it over with to be honest.
I only gave it two stars because of the original format, the "poetic" writing (can't say it's bad writing because it was great) and the cutesy quotes we get from time to time.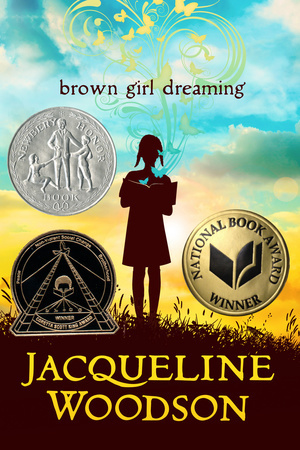 BROWN GIRL DREAMING 
Published August 28th 2014 by Nancy Paulsen Books
SYNOPSIS: Raised in South Carolina and New York, Woodson always felt halfway home in each place. In vivid poems, she shares what it was like to grow up as an African American in the 1960s and 1970s, living with the remnants of Jim Crow and her growing awareness of the Civil Rights movement. Woodson's eloquent poetry also reflects the joy of finding her voice through writing stories, despite the fact that she struggled with reading as a child. Her love of stories inspired her and stayed with her, creating the first sparks of the gifted writer she was to become.
MY THOUGHTS: Now on the contrary of the first book who had an original format but a bad execution, this one has an original format and a really great execution! I'm saying original because I have never encountered a memoir (non-fiction) told in verses. If I did and it was done this well, I would've probably been reading more memoirs as they're probably my least favorite genres unless they're incredibly funny and in an audiobook format. Now back to this book, it's basically the life of Jacqueline Woodson as a black girl in the United States (both in the South and in Brooklyn) and takes place in the 60s/70s. She starts by introducing us to her family and the struggles they were facing as African Americans. We'll also get to see how Jacqueline got into writing
The poems are very succinct (persuasive, my client needs a strong defense, you're the solution…) and very moving. I loved the parts where she was telling us about the memories she had with her grandparents and how much they had meant to her. She called her grandfather "Daddy" because they all would see him as a father figure which I found really sweet. We also don't get just the sweet but everything else going from the civil rights movements going on at that time, the prevalent racism and the prejudices they were facing.
It is very beautifully written and there's one poem which, I find, is very relevant and shows us how diversity is important and how we need it in our lives, in our books. Seeing herself reflected in a book meant so much to her when being a kid so we can only get from that how this is important. It almost felt like talking and getting to know more one of our friends because she goes back telling us about her most memorable stories from her childhood in a very simple and friendly way. This book is one I would recommend to each and everyone. It would be also very nice to get a copy of it to girls who could identify with Jacqueline Woodson because maybe then, if they didn't already, they would understand that you don't have to be like everyone else to make it and that, you too, deserve your story to be told.
I am now going to leave you with this beautiful poem I was talking about:
Stevie and Me
Every Monday, my mother takes us
to the library around the corner. We are allowed
to take out seven books each. On those days,
no one complains
that all I want are picture books.
Those days, no one tells me to read faster
to read harder books
to read like Dell.
No one is there to say, Not that book,
when I stop in front of the small paperback
with a brown boy on the cover.
Stevie.
I read:
One day my momma told me,
"You know you're gonna have
a little friend come stay with you."
And I said, "Who is it?"
If someone had been fussing with me
to read like my sister, I might have missed
the picture book filled with brown people, more
brown people than I'd ever seen
in a book before.
The little boy's name was Steven but
his mother kept calling him Stevie.
My name is Robert but my momma don't
call me Robertie.
If someone had taken
that book out of my hand
said, You're too old for this
maybe
I'd never have believed
that someone who looked like me
could be in the pages of the book
that someone who looked like me
had a story.