I don't know about you but whenever I'm looking for my next read, I sometimes have this bad habit of looking at the cover first and then the content. Probably one of the reasons I haven't read the Lux series by Jennifer L. Armentrout no matter how many times I've heard that it was so good. I'm sorry but the covers are cringy and I can't help it, even when it's an ebook. I'm a cover person. I need pretty covers. Of course it doesn't mean that I don't care about the content, it's just… Please, you gotta make an effort! Anyways, I've seen this video some time ago where you get to see the cover and then guess what the book's about and I thought that it was pretty fun to do so I'm going to try and do a blog version of it. (the Ze instead of The is mainly because I watched too many videos of french desserts coming to life)
Of course I'm not going to take covers of pretty popular books I've already heard of through the blogging community or Booktube. Also, this will be about the books that were released or will be released during February 2017. The actual plot will be linked right after my hypothesis so you can go and try to find out more about the book. Maybe the cover made you curious?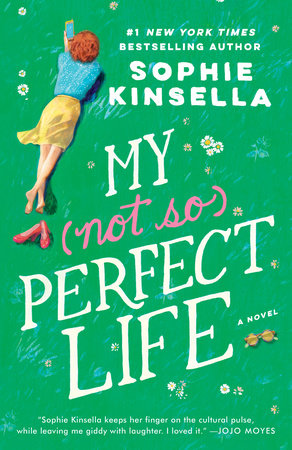 MY NOT SO PERFECT LIFE – Sophie Kinsella
Okay so first, I wanna say that this is a pretty cover compared to those of Sophie's other books. I like it. Now let's move on to the plot. I think this is going to be about the life of a woman in her 20s or 30s who apparently is waiting for her life to change while holding that phone, comparing herself to others on social media and then realizing she's a loser and that she needs to do something with her life but she still choses to lay down and perhaps to wait for things to get done by themselves? I hope this isn't a very i-whine-a-lot-about-my-already-normal-life book!  I just realized I sound kinda harsh. Touching a nerve? haha I waste so much time on social media too :'(. ACTUAL PLOT
THE ORPHAN'S TALE – Pan Jenoff 
I have never heard of this author before but do you all remember the first scene we got in The Book Thief? When Liesel is with her mother and brother on a train and it's snowing? That's what I first thought of when I saw this cover. And by seeing this very old train, I assume that this is going to be some historical fiction in a country that's apparently really cold with the main character being orphan, his or her parents being killed and (s)he's trying to escape so (s)he's on the road and is telling us his/her story? I hope it's going to be during the World Wars (happens to be my favourite setting for historical fiction). If so, maybe it's the tale of an orphan targeted by the Nazis? ACTUAL PLOT
A PIECE OF THE WORLD – Christina Baker Kline
Okay. So this is about someone who obviously spent his life so sad and lonely in the house pictured. Very old house by the way so I guess it was about someone who was born in that house and has always lived there and then one day, the MC wants to see "a piece of the world". The other world. The one he's never seen before, not even on TV because I doubt he gets any reception in that house. From the colors and tones I'd assume this is a pretty sad book. I'm not sure if it's goes-to-the-city-and-becomes-famous kinda story. I'd even say maybe it's post-apocalyptic? Like someone who's never left the house and then when everything else is destroyed decides to see "a piece of this new world"? ACTUAL PLOT
FAKE FIANCEE – Ilsa Madden-Mills
Well first of all, that's one very obvious fake fiancée! Who are we kidding? Clearly New Adult. Why do you have to get such ugly covers, New Adult? What have you done? This is kinda obvious I suppose. A girl that needs to prove herself or something goes on and pays an "actor" to be her "fake fiancée" and they fake this story of them being so in love and then one of them or maybe both of them will develop feelings and it'll be the story of them trying to show the other that it's not really an act anymore and that the feelings are real. I assume that the girl's the one who develops feelings and maybe we get a happy or a sad ending… ACTUAL PLOT
DAUGHTER OF THE PIRATE KING – Tricia Levenseller
Pirates! And when there are pirates, there are treasures  and loads of enemies involved not far away. The girl pictured on the cover reminds me a bit of Brave, the Disney movie. So I guess it's about the daughter of a very famous pirate who maybe died recently in some pirate battle and his daughter wanted to fulfill some of his missions so she goes on this very dangerous trip which will involve lots of deaths and battles. She'll try to make her father proud even though the pirate world isn't made for a female captain so she'll be struggling to maintain some kind of authority on her crew? ACTUAL PLOT
ALL OUR WRONG TODAYS – Elan Mastai
Hmm, when life gives you lemons, make lemonade? I have no idea what this book could be about but with the "our", maybe there's a group of main characters and not just one? Maybe it's a world that has gone completely mad and there's this one group of people who are being "rebellious" by not liking the way things are so they're trying to find a way to make the wrong todays, the right todays? Either by trying to convince people, dealing in a very secretive way, to join their movement and plan or by trying to invent a way, scientifically speaking, to change everything and gets rid of the evil that took control of the world. ACTUAL PLOT
WE WERE THE LUCKY ONES – Georgia Hunter
Looking at the black and white and the hairstyles: I'd say it's probably historical fiction. So maybe it's about this lucky couple who had it all figured out and they had this pretty life with great plans but all of this was destroyed by some kind of event: maybe it's the war, maybe it's some sort of family drama and so they were the lucky ones. So in the book they probably had to fight to keep being together with all the misfortunes falling on their heads or maybe they were just trying to be as happy as they were in a world that is no longer good to them. I don't know why but I feel like I would like this one. ACTUAL PLOT
 THE VALIANT – Lesley Livingston
Xena: Warrior Princess vibes? This seems to be about a very badass strong female character. A gladiator? There are people watching her while she's in the arena so I guess she's involved in some kind of battles in Roma and she needs to win to make a name for herself. She looks a bit "sad" also so it's like she does it to stay alive, not just to win some stupid battle. There's a very dark thing about her so she seems to be on a mission so it ain't time to show no signs of weakness. I have never really read anything with that setting so I don't really know much how it goes but it seems really interesting! ACTUAL PLOT
TO CATCH A KILLER – Sheryl Scarborough
I love the cover! It's so dark and mysterious and the font's perfect! So this, I guess, is about this girl who was trying to catch a killer. Maybe she's with the police? Or she's just investigating some murder. If she's not with the police then maybe it was someone close to her, that she knew so she was trying to get her revenge. She ends up collecting little hints everywhere, researching and then when she finally has a hypothesis about who it might really be, the killer is onto her. So she might've discovered who it was but she needed proof and by getting too close to the killer, she might be putting herself in danger and there she's pictured running from him? ACTUAL PLOT
 UNDER THE KNIFE – Kelly Parsons
The cover clearly suggests that this is going to be around the medical world, set in a hospital so maybe the main character is a surgeon who may have dealt with the wrong patient at the wrong time. The tones of this cover don't really indicate that it's going to be a sad story but rather something kinda scary so maybe the surgeon's being subject to threats? Maybe he or she got involved in some organ trafficking business and can't really get out of it. Or maybe it's the story of someone who undergoes plastic surgery with doctors making experiments to achieve some kind of optimal result so they go "under the knife"? ACTUAL PLOT
This is actually better than what I thought it would be. Not because of whether the article turned out to be great or not but more because of all the brainstorming involved. I rarely try to find ideas for stories and this kind of made me do it. I know I haven't gone into much detail but in my head I was already thinking about all the possibilities that we could have with that plot and it felt kinda nice.
I know that for many of these books I have really gone off track but I was a bit surprised by how related the cover was with the story! So maybe it is not wrong to judge a book by its cover? Haha, someone's trying to find excuses for what she's constantly doing.
PS: I'm sorry for the ALL OUR WRONG TODAYS part that doesn't wanna behave 😥 I really  tried but to no avail! I should get some coding lessons or something. I checked the code and everything seems right but well, I guess not!