Hi guys! ❤
I hope your 2017 started off well! As you may have guessed from the title, this post is going to be about new releases that are coming up in the following months. Most of the books listed are going to be out in January/February but there are some that will take a bit longer.
Usually I do not read synopses and avoid watching or reading about new releases but I've decided to start reading books I know something about, at least a tiny bit because I used to get books very randomly. Sometimes because the cover was cute or the paper quality was great or sometimes because while in the bookshop I started thinking "Oh wait, I've seen this author/book before somewhere… I can't really remember… I'll take it home and find out!". So I was left with lots of books that didn't interest me at all, but hey! The covers are still cute.
I already have a large TBR ( that was picked randomly too :p ) that I need to get through before going to new releases which is why I've only picked a few for the time being. I've heard lots of amazing stuff about these books and the plots sounded very interesting which is why I'm looking forward to the publication of these books. Most of the covers look amazing also apart from "By Your Side"… I've never been a fan of covers with actual photographs of people on them but at least it's not a very muscular guy in a wet t-shirt/shirtless or a semi-naked woman. I do not understand these covers…
I haven't even read the first book that is "This Savage Song" by Victoria Schwab so normally I shouldn't be excited about the publication of this book buuut, guilty again, the cover is so beautiful and I've read books by Victoria before and I know she's an amazing writer so I think that gives me the right to be excited about this release 😀 !
Swallowing Mercury by Wioletta Greg
Expected publication: January 5th 2017 by Portobello
Wiola lives in a close-knit agricultural community. Wiola has a black cat called Blackie. Wiola's father was a deserter but now he is a taxidermist. Wiola's mother tells her that killing spiders brings on storms. Wiola must never enter the seamstress's 'secret' room. Wiola collects matchbox labels. Wiola is a good Catholic girl brought up with fables and nurtured on superstition. Wiola lives in a Poland that is both very recent and lost in time. (more on Goodreads)
The Stolen Child by Lisa Carey
Expected publication: February 7th 2017 by Harper Perennial
Despite the island's natural beauty, it is a place that people move away from, not to—until an outspoken American, also named Brigid, arrives to claim her late uncle's cottage. Brigid has come for more than an inheritance. She's seeking a secret holy well that's rumored to grant miracles. As months pass and Brigid carves out a place on the island and in the sisters' lives, a complicated web of betrayal, fear, and desire culminates in one shocking night that will change the island, and its inhabitants, forever. (more on Goodreads)
Swimming Lessons by Claire Fuller
Expected publication: February 7th 2017 by Tin House Books
Ingrid Coleman writes letters to her husband, Gil, about the truth of their marriage, but instead of giving them to him, she hides them in the thousands of books he has collected over the years. When Ingrid has written her final letter she disappears from a Dorset beach, leaving behind her beautiful but dilapidated house by the sea, her husband, and her two daughters, Flora and Nan.
Twelve years later, Gil thinks he sees Ingrid from a bookshop window, but he's getting older and this unlikely sighting is chalked up to senility. (more on Goodreads)
By Your Side by Kasie West
Expected publication: January 31st 2017 by Harper Teen
When Autumn Collins finds herself accidentally locked in the library for an entire weekend, she doesn't think things could get any worse. But that's before she realizes that Dax Miller is locked in with her. Between the rumors about the fight he was in and his reputation as a loner, he's not exactly the ideal person to be stuck with. Still, she just keeps reminding herself that it is only a matter of time before Jeff, her almost-boyfriend, realizes he left her in the library and comes to rescue her.
Only he doesn't come. No one does. (more on Goodreads)
A Line Made By Walking by Sara Baume
Expected publication: April 18th 2017 by Houghton Mifflin Harcourt
Struggling to cope with urban life-and life in general-Frankie, a twenty-something artist, retreats to her family's rural house on "turbine hill," vacant since her grandmother's death three years earlier. It is in this space, surrounded by countryside and wild creatures, that she can finally grapple with the chain of events that led her here-her shaky mental health, her difficult time in art school-and maybe, just maybe, regain her footing in art and life. (more on Goodreads)
A List of Cages by Robin Roe
Expected publication: January 10th 2017 by Disney-Hyperion
When Adam Blake lands the best elective ever in his senior year, serving as an aide to the school psychologist, he thinks he's got it made. Sure, it means a lot of sitting around, which isn't easy for a guy with ADHD, but he can't complain, since he gets to spend the period texting all his friends. Then the doctor asks him to track down the troubled freshman who keeps dodging her, and Adam discovers that the boy is Julian–the foster brother he hasn't seen in five years. (more on Goodreads)
Lincoln in The Bardo by George Saunders
Expected publication: February 14th 2017 by Random House
On February 22, 1862, two days after his death, Willie Lincoln was laid to rest in a marble crypt in a Georgetown cemetery. That very night, shattered by grief, Abraham Lincoln arrives at the cemetery under cover of darkness and visits the crypt, alone, to spend time with his son's body. Set over the course of that one night and populated by ghosts of the recently passed and the long dead, Lincoln in the Bardo is a thrilling exploration of death, grief, the powers of good and evil, a novel – in its form and voice – completely unlike anything you have read before. (more on Goodreads)
English Animals by Laura Kaye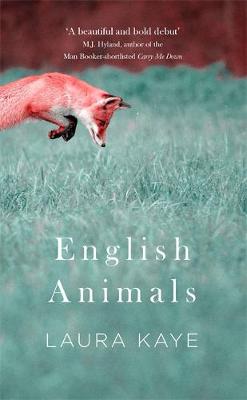 Expected publication: January 12th 2017 by Little, Brown
How to be Human by Paula Cocozza
Expected publication: May 9th 2017 by Metropolitan Books
Carve The Mark by Veronica Roth
Expected publication: January 17th 2017 by Katherine Tegen Books
On a planet where violence and vengeance rule, in a galaxy where some are favored by fate, everyone develops a currentgift, a unique power meant to shape the future. While most benefit from their currentgifts, Akos and Cyra do not—their gifts make them vulnerable to others' control. Can they reclaim their gifts, their fates, and their lives, and reset the balance of power in this world? (more on Goodreads)
Because You Love To Hate Me by Ameriie
Expected publication: July 11th 2017 by Bloomsbury USA Childrens
This unique YA anthology presents classic and original fairy tales from the villain's point of view. Like Maleficent or Wicked, these are stories of vengeance, of defiance, of rage. They are stories of pain, of heartbreak, of sorrow. But don't expect a circle of hands. Leave it to the heroes to help the world; villains just want to rule the world. We love to hate them and they hate to be loved, if only because being hated frees them from having to be good. (more on Goodreads)
History is All You Left Me by Adam Silvera
Expected publication: January 17th 2017 by Soho Teen
When Griffin's first love and ex-boyfriend, Theo, dies in a drowning accident, his universe implodes. Even though Theo had moved to California for college and started seeing Jackson, Griffin never doubted Theo would come back to him when the time was right. But now, the future he's been imagining for himself has gone far off course. To make things worse, the only person who truly understands his heartache is Jackson. He's losing himself in his obsessive compulsions and destructive choices, and the secrets he's been keeping are tearing him apart. (more on Goodreads)
Our Dark Duet by Victoria Schwab
Expected publication: June 13th 2017 by Greenwillow Books
Nearly six months after Kate and August were first thrown together, the war between the monsters and the humans is terrifying reality. In Verity, August has become the leader he never wished to be, and in Prosperity, Kate has become the ruthless hunter she knew she could be. When a new monster emerges from the shadows—one who feeds on chaos and brings out its victim's inner demons—it lures Kate home, where she finds more than she bargained for. She'll face a monster she thought she killed, a boy she thought she knew, and a demon all her own. (more on Goodreads)